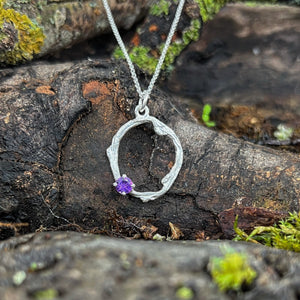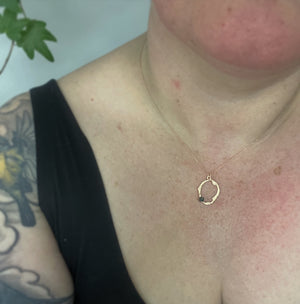 Protection-Into the Woods-Amethyst Twig Necklace
This pendant captures the essence of woods, with its delicate design and natural textures evoking the calming and rejuvenating effects of the forest.
Protection: 
Amethyst is believed to have strong protective qualities, both physically and emotionally. This purple-hued crystal is said to help calm the mind, relieve stress, and promote a sense of tranquility and inner peace.
Amethyst is also believed to help protect against negative energies, electromagnetic radiation, and psychic attacks, making it a popular choice for spiritual and energy workers. It's considered to be a powerful tool for spiritual growth and development, aiding in meditation and enhancing intuition. Overall, amethyst is a highly valued gemstone with many benefits.
Each gemstone is unique. 
Details:
Approx 12mm x 20mm x 1.3mm-Due to the organic nature of the twigs used, the shapes vary slightly.
Gemstone size Approx 4mm
Chain Length: 18in/45cm Belcher Chain
Available in Sterling Silver, 9ct yellow, rose & white Gold.
Please allow 5-10 working days for dispatch.