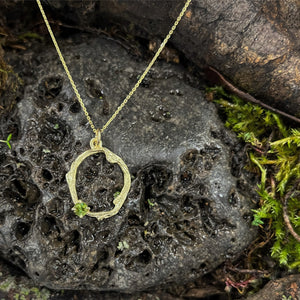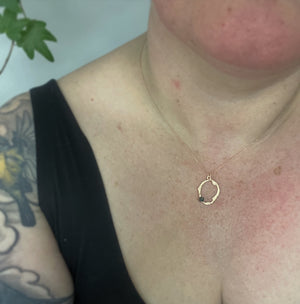 Growth-Into the Woods-Green Tourmaline Twig Necklace
Into the woods captures the essence of this woods, with its delicate design and natural textures evoking the calming and rejuvenating effects of the forest.
Growth: 
Green tourmaline is believed to have several properties that can aid in personal growth. It is known to help release negative energy and emotions, promoting a greater sense of self-awareness and emotional stability. Believed to encourage self-confidence and a sense of inner strength, helping individuals to overcome obstacles and reach their full potential. It is also believed to facilitate spiritual growth, promoting a deeper connection with nature and the universe.
People also believe that Green tourmaline can aid in the manifestation of one's goals and desires, promoting a sense of abundance and prosperity. Overall, it is considered a powerful tool for personal growth and transformation.


Details:
Approx 12mm x 20mm x 1.3mm-Due to the organic nature of the twigs used, the shapes vary slightly.
Gemstone size Approx 4mm-Each Gemstone is unique.
Chain Length: 18in/45cm Belcher Chain
Available in Sterling Silver, 9ct yellow, rose & white Gold.
Please allow 5-10 working days for dispatch. 
White gold are made to order- please allow 3-4 weeks for dispatch.