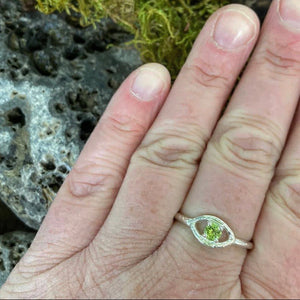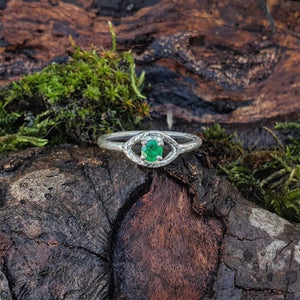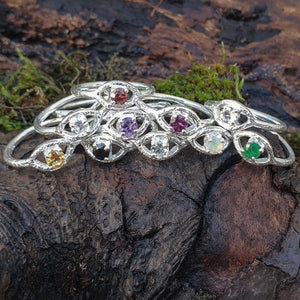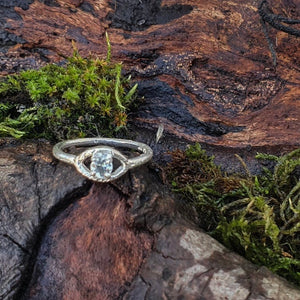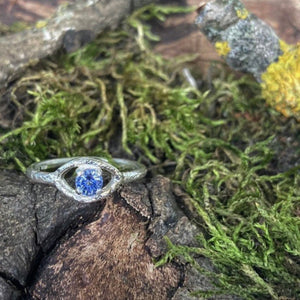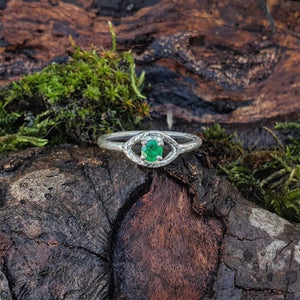 An eye for an eye-Evil Eye Ring, Sterling Silver with Birthstone
An eye for an eye.
This little ring is An Amulet to protect the wearer against the malevolent glare of those who wish them misfortune. Worn for centuries to ward off the evil eye of others. 
 
This rustic finish evil eye ring is made to order here in Dublin. It is made from sterling silver, It has a gorgeous faceted gemstone Set in a 4 claw setting in the centre. 
The band width is approx 1.5mm wide. 
Please allow 3-5 days for dispatch...
Don't forget to write your ring size in the customer comments on check out.
The details
Eye Measurements:approx 12mm x 7mm 1.5mm 
Gemstone: 3.75-4mm Natural Gemstone.
Choose your birthstone;
January-Mozambique Garnet (Red)
February-Amethyst (Purple)
March-Aquamarine (Palest Blue)
April-Rock Crystal (Clear)
May-Emerald (Mossy Green)
June-Moonstone (Clear with Blue Flashes)
July-Ruby (Pinkish Red)
August-Peridot (Yellowish Green)
September-Sapphire (Light Blue)
October-Opal (White with flashes of colour)
November-Citrine (Warm Yellow)
December-Tanzanite (Pale blue/violet)
I have also added Black spinel (Black), Rhodolite garnet labradorite (Raspberry Pink) and rose quartz (Pale Dusty Pink) to the mix. 
Due to the nature of nature gemstones, there may be slight variations of colour in each one. I do hand pick each one myself to ensure they are the nicest colour.
I also have many other gemstones in stock so if you have something else in mind, Please do get in touch.