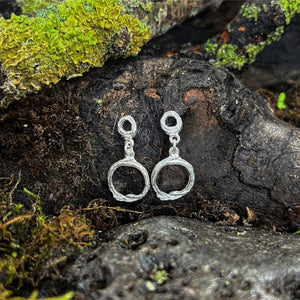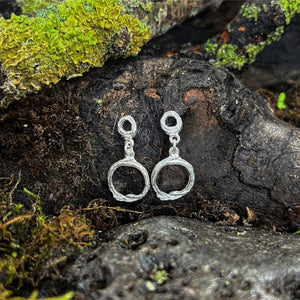 Strength & Resilience-Into the Woods- Double Drop Studs

Delicate drop stud earrings inspired by the Strenght and resilience of the nature.
Resilience is capacity to withstand or to recover quickly from difficulties. 
The forest and nature has long been known for its therapeutic benefits, particularly in the practice of forest bathing, which involves immersing oneself in the natural environment to improve mental health and wellbeing.
Into the woods captures the essence of this woods, with its delicate design and natural textures evoking the calming and rejuvenating effects of the forest.
This earrings are a symbol of resilience & Strength, reminding us of the power of nature to heal and restore our minds and bodies.
Details:
 2.5cm from top to bottom.
Small Loop-Resilince-6mm x 8mm x 1.2mm
Larger Loop-Strength- 13mm x 13mm x 1.2mm 
For pierced ears only. 
Do not use on un healed piercings. 
Available in Sterling Silver, 9ct yellow, rose & white Gold.
Please allow 5-10 working days for dispatch. 
White gold are made to order- please allow 3-4 weeks for dispatch.