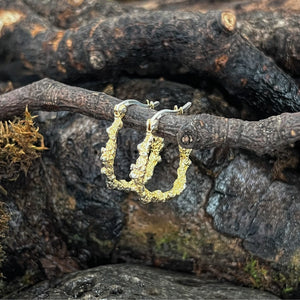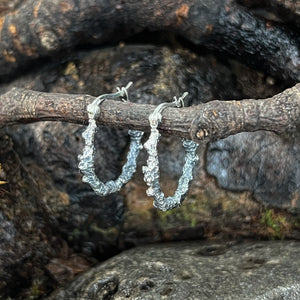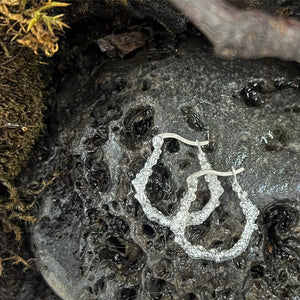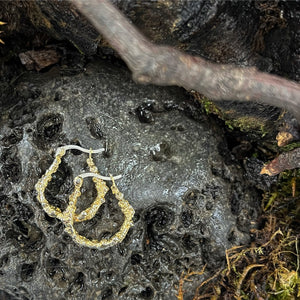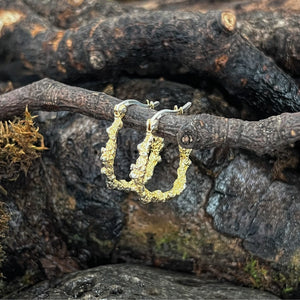 Hoops-Into The Woods-Hawthorne with Lichen
Hoops-Hawthorn twig with Lichen. 
These earrings are very limited edition.
These unique, handcrafted earrings are cast from a real twig from the sacred hawthorn tree at Uisneach. This particular twig was covered in Lichen, the detail was preserved when the twig was cast giving these hoops and very special appearance.
In Celtic mythology Hawthorne it is one of the most sacred trees, symbolising love and protection. It was believed to be a portal to the 'Otherworld', a realm of spirits and magical beings.
It was revered for its dual nature - its ability to bring both joy and sorrow, signifying the delicate balance of life's experiences. Its blossoms were celebrated for their beauty and enchanting scent, yet they were also associated with the powerful idea of transformation and change.
Details:
Width Varies between 2mm - 3mm.
Height between Hoop Stem & Bottom of Hoop-22mm 
Height between Inner Bottom Hoop and Stem- 18mm
Weight: 2g each-4g per pair
- Twig Origin-The twig was found on the ground at the base of the Sacred Hawthorn tree in Uisneach at the Bealtaine Fire Celebration.
. 
The Hill of Uisneach is a hill and ancient ceremonial site in Rathconrath in County Westmeath, Ireland. It is a protected national monument
For Pierced ears ONLY.
Do not use on un healed piercings. 
Available in Sterling Silver, Oxidised Silver & Gold Vermeil(Polished back to reveal silver detail,
Please allow 3-5 working days for dispatch. 
 
Price includes gift wrap and post(in Ireland).