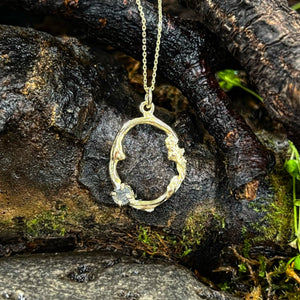 Soothe-Into the Woods-Tourmalated Quartz Twig Necklace
This pendant captures the essence of woods, with its delicate design and natural textures evoking the calming and rejuvenating effects of the forest.
Soothe:
Tourmalated Quartz is a unique crystal with healing properties to soothe the soul, combining the benefits of both tourmaline and quartz. It's believed to be an effective grounding and protective stone, providing a sense of calm and tranquility in times of stress or anxiety. Tourmalated Quartz is also said to help release negative energy and promote clarity of thought, making it a useful tool for meditation and spiritual practices. This crystal is thought to aid in physical healing as well. Overall, Tourmalated Quartz is a highly valued gemstone with many beneficial properties. 
Each gemstone is unique. 
Details:
Approx 17mm x 20mm x 1.5mm-Due to the organic nature of the twigs used, the shapes vary slightly.
Gemstone size Approx 4mm
Chain Length: 18in/45cm Belcher Chain
Available in Sterling Silver, 9ct yellow, rose & white Gold.
Please allow 3-5 working days for dispatch. 
White gold are made to order- please allow 3-4 weeks for dispatch.