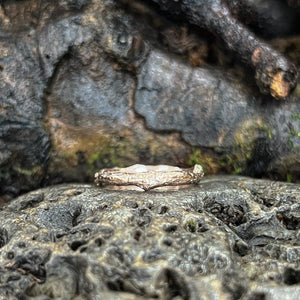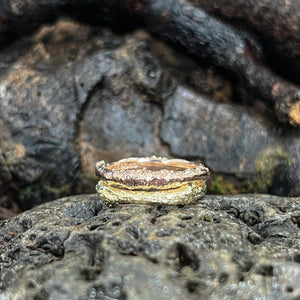 Wisdom-Into the Woods-Beech Twig Ring
Beech Twig Ring: 
A Symbol of wisdom, knowledge & protection.
In Irish folklore and mythology, the beech tree is considered a sacred and mystical tree. It is often associated with wisdom, ancient knowledge, and protection. The beech tree's tall and majestic appearance symbolizes a connection between the earthly and spiritual realms. It is believed to possess a strong spiritual energy and is associated with the divine. Additionally, the beech tree represents stability, strength, fertility, growth, community, and unity.
It is seen as a source of healing and protection against evil spirits. These symbolic meanings of the beech tree in Ireland are deeply rooted in the cultural and historical context of the country.
Each piece is made with care so it reflects the individuality of the original twig it was cast from.
**Product Details:**
-This listing is for one ring. 
- The inner surface of the ring is smooth, ensuring a comfortable fit.
- The ring's width varies from 2mm at its narrowest parts to 4mm at its widest.
- The weight of the ring varies depending on the chosen size.
- Custom sizing available - please include your ring size in the customer comments at checkout.
-Twig Origin - Mullaghmeen Forest, Westmeath, Ireland- Mullaghmeen is an isolated area of forest rising above the farm land of north Westmeath. It is the largest planted beech forest in Ireland
**Shipping Details:**
- Sterling Silver: Ready for dispatch within 5-10 working days.
- Solid Gold: Made to order. Please allow 4-6 weeks for dispatch.