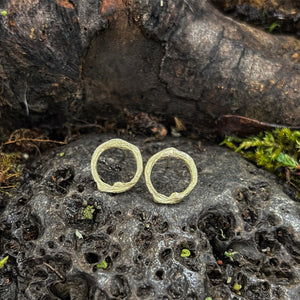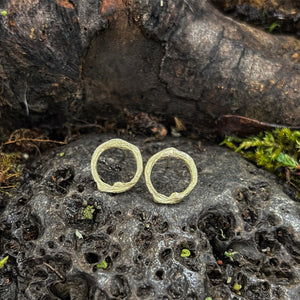 Strength-Into The Woods-Medium Twig Circle Studs
The forest and nature has long been known for its therapeutic benefits, particularly in the practice of forest bathing, which involves immersing oneself in the natural environment to improve mental health and wellbeing. Into the woods captures the essence of this woods, with its delicate design and natural textures evoking the calming and rejuvenating effects of the forest.
Strenght:
Trees and woods have long been symbolic of strength and resilience. They weather the elements, adapt to changing environments, and grow taller and stronger over time. The roots of a tree run deep, providing a strong foundation for growth and stability. The branches reach high, seeking light and nourishment, and providing a sanctuary for wildlife. The strength and steadfastness of trees and woods remind us that we too can weather the storms of life and emerge stronger on the other side.
Made from a delicate yet strong twig, These studs are worn as a reminder of that strength that we all have inside us..
Details:
12mm x 13mm x 1.2mm 
For pierced ears only. 
Do not use on un healed piercings. 
Available in Sterling Silver, 9ct yellow, rose & white Gold.
Please allow 3-5 days for dispatch,
White gold are made to order-please allow 3-4 weeks.