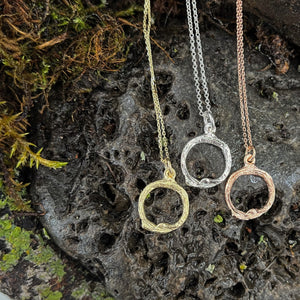 Strength-Into The Woods-Medium Twig Circle Necklace
Strenght:
Trees have long been symbolic of strength and resilience. They weather the elements, adapt to changing environments, and grow taller and stronger over time. The roots of a tree run deep, providing a strong foundation for growth and stability. The branches reach high, seeking light and nourishment, and providing a sanctuary for wildlife.
A reminder for us that we too can weather the storms of life and emerge stronger on the other side.
Made from a delicate yet strong twig, wear it as a reminder of that strength that we all have inside us.
Details:
12mm x 13mm x 1.2mm 
Chain Length: 18in/45cm Belcher Chain
Available in Sterling Silver, 9ct yellow, rose & white Gold.
Please allow 3-5 working days for dispatch. 
White gold are made to order- please allow 3-4 weeks for dispatch.