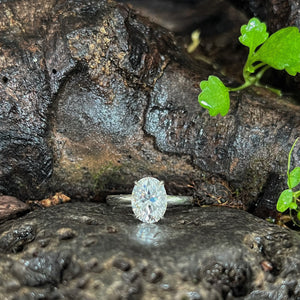 Oval Moissanite Solitaire
A simple solitaire with a raised 4 claw setting & Scalloped detail setting. 


Made to order. Please allow 4-6 weeks for dispatch. 

-Wed fit-designed to allow straight wedding bands to sit flush against it. 

1.5ct - 8mm x 6mm Oval Moissanite
2ct - 9mm x 7mm Oval Moissanite 
Made to order. Please allow 4-6 weeks for dispatch. 
Moissanite is an exceptional choice for an engagement ring, providing remarkable beauty, affordability, and ethical considerations. Its stunning sparkle, durability, and affordability make it an alluring alternative to diamonds.
9ct Gold. These are the ultimate budget friendly engagement ring. If you would like it in a higher Ct metal please contact me directly. 
Band Width - @2mm D-shape
Please Specify which claw/prong you would like-
Talon-pointed/claw like tips
Round-rounded tips. 
This ring can also be done in a Rustic Raw finish or a weathered finish. 


Please note- we have very limited stock of these particular gemstones at these prices.