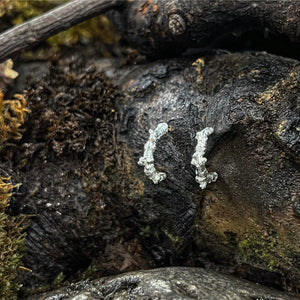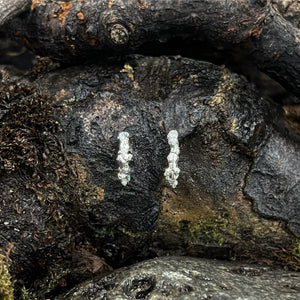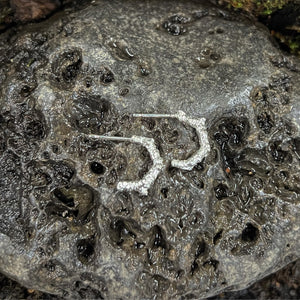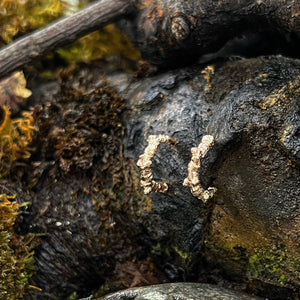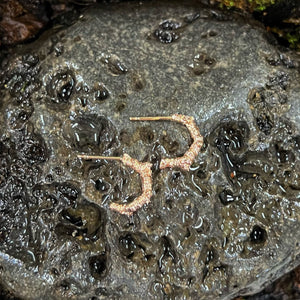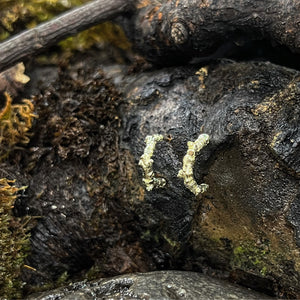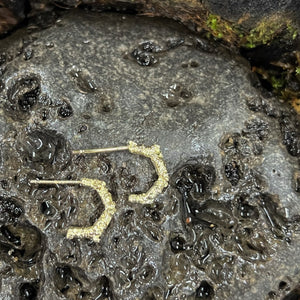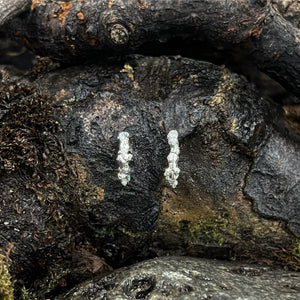 Huggie Studs-Into The Woods-Hawthorne
 The forest and nature has long been known for its therapeutic benefits, particularly in the practice of forest bathing, which involves immersing oneself in the natural environment to improve mental health and wellbeing. Into the woods captures the essence of this woods, with its delicate design and natural textures evoking the calming and rejuvenating effects of the forest.
Protection:
In Celtic mythology Hawthorne it is one of the most sacred trees, symbolising love and protection
These unique, handcrafted earrings are inspired by nature and cast from real Hawthorn twig from The Furry Glen in Dublin's Phoenix Park.
In Celtic mythology, the Hawthorn tree, also referred to as the 'May Tree', was considered sacred and symbolized love and protection. It was believed to be a portal to the 'Otherworld', a realm of spirits and magical beings.
It was revered for its dual nature - its ability to bring both joy and sorrow, signifying the delicate balance of life's experiences. Its blossoms were celebrated for their beauty and enchanting scent, yet they were also associated with the powerful idea of transformation and change.
Each piece of hawthorn jewellery from this collection is a reminder of this ancient lore, encapsulating the enduring beauty of the Hawthorn and its potent symbolism.

Crafted with meticulous attention to detail, these earrings reflect the intricate patterns of the Hawthorn twig, bringing a touch of nature's elegance to your everyday style.
Wear them as a celebration of the mythical and natural world, or give them as a gift to someone special as a symbol of protection and love. Infuse your wardrobe with the mystical charm of the Hawthorn tree, and carry a piece of Celtic mythology with you wherever you go.
Details:
Width Varies between 2mm - 3mm.
Height between Stem & Bottom of Huggy-8mm ensuring they wrap nicely around average ear lobes.
Measurements:  Top to Bottom- 12mm
- Twig Origin-The Furry Glen, Phoenix Park, Dublin
The Furry Glen is a tranquil oasis within the Phoenix park, inviting visitors to enjoy the peacefulness of nature and indulge in leisurely strolls amidst its peace & tranquility. 
For Pierced ears ONLY.
Do not use on un healed piercings. 
Available in Sterling Silver, 9ct yellow, rose & white Gold.
Please allow 3-5 working days for dispatch. 
White gold are made to order- please allow 3-4 weeks for dispatch. 
 Price includes gift wrap and post(in Ireland).