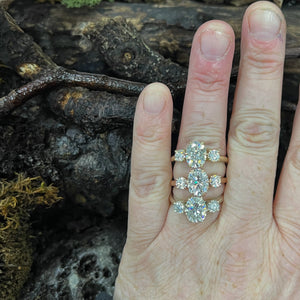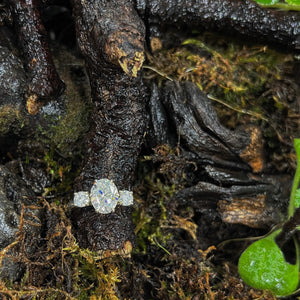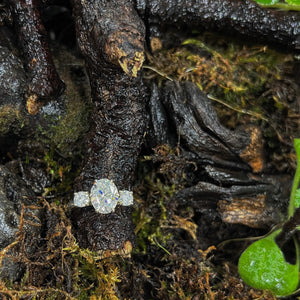 The Baroness-Astrea-9ct Gold & Moissanite
The Baroness-Astrea
Astrea, star-maiden, She is the virgin goddess of justice, innocence, purity and precision.
This Baroness ring has a Stunning  2ct Moissanite as her centre piece, flanked by just under 0.50ct Moissanite Side stones(approx 0.23ct each).
The centre stone is GRA certified. 
The setting scoops down underneath the stone to the band, so she sits perfectly beside other flat or D-shaped bands. Making her perfect for stacking.
The band is Available with a Weathered, Rustic Textured finish or a smooth polished finished.
It measures just under 2mm in width. She measures just under 6mm from the table of the stone to the inside of the band at the finger. 
I have one of each Available in 9ct Yellow, White or Rose Gold.
They are size O, can be resized up or down(Allow 3 weeks for resizing)
Otherwise they are Made to order so please allow 4-6 weeks for dispatch.
Sometimes we can do them quicker. So
Please let me know. 
They can also be made with other metals but you will have to email for a quote on those.
Please note. I have very limited stock of this size moissanite at this price, so they are very limited edition.