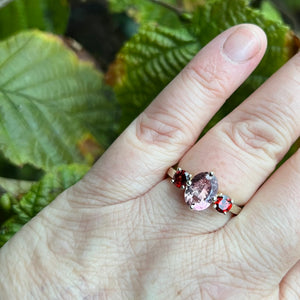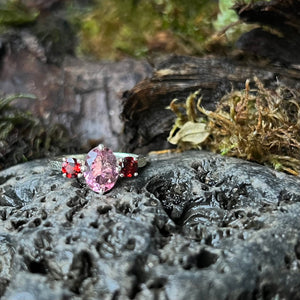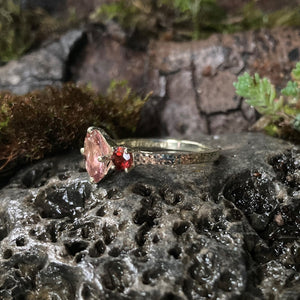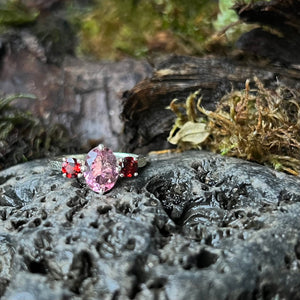 The Baroness -Sarah- Pink tourmaline & Mozambique Garnets-9ct White Gold
If you're looking for the perfect dress or right hand ring. Look no further.
The Baroness.
Sarah: Inspired by one of my favourite Halloween Films, Sarah is one of the Sanderson Sisters. One of 3 witchy sisters that appear in Hocus Pocus.
She is made in 9ct WHite Gold with a weathered finish. She has a a gorgeous Pink Tourmaline and is Paired with 2 x 4mm Mozambique Garnets.  
The setting scoops down underneath the stone to the band, so she sits perfectly beside other flat or D-shaped bands. Making her perfect for stacking.
The band measures just under 2mm in width. She measures just under 6mm from the table of the stone to the inside of the band at the finger.

I do not Rhodium Plate the white gold rings. Rhodium plating is available if requested. 
Please state your ring size in the customer comment section upon checkout. 
The details:

Metal: 9ct White gold with Partially Weathered finish.
Assayed with JLB Makers Mark at Dublin Assay office in the Historic grounds of Dublin castle.
Gemstones:
9 x 7mm Oval Faceted Pink Tourmaline-1.35ct 
2 x 4mm Round Faceted Mozambique Garnets-0.67ct
Band Width: 1.7mm
Band Depth: 1.7mm
Setting height: 5.8mm
Weight: 3.5g. 


 Size O
This ring can be resized, there will be a small Charge depending on the size.
Allow 2 weeks For resizing. Sometimes it can be quicker, but given the current pandemic thing can take a little longer.