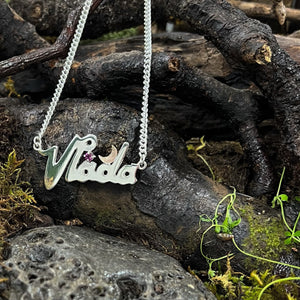 Say my Name-Chunky Name on Sterling Silver Chain with Moon detail-gemstone optional
Fab Chunky Name with a little moon detail.
You can choose Silver, 9ct Yellow gold or 9ct Rose Gold. Moons will be placed wherever work best for the particular name. 
Each name is hand pierced from 1.5mm Sterling Silver sheet in Janice's handwriting, Making them stand out from the rest. 
Chain: 18in/45cm Curb Chain including Name. 
If you would like shorter or longer, Please do get in touch.
 The size of the name varies depending on the letters. 1in to 2.5in in general.
Don't forget to include the exact name in the customer comments on checkout.
Due to the handmade nature of these necklaces, Please allow 6-8 weeks.
GEMSTONES ARE EXTRA. Please email for quote with gemstones.  
Gemstones available- Rhodolite Garnet, Amethyst, Aquamarine, Lab Grown Diamond, Emerald, Moonstone, Ruby, Peridot, Black Spinel, Sapphire, Opal, Citrine, Tanzanite. 
Prices range from €50-€100 depending on chosen gemstone.