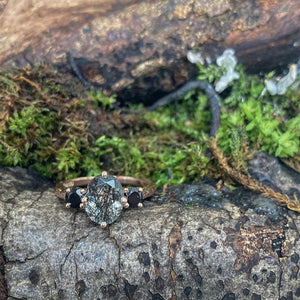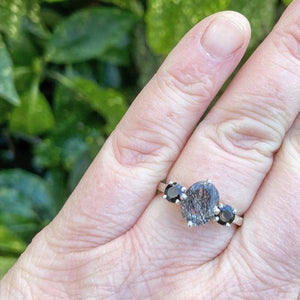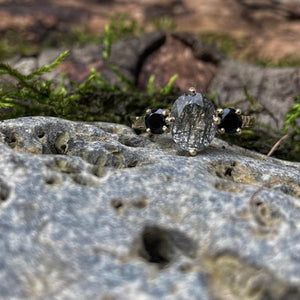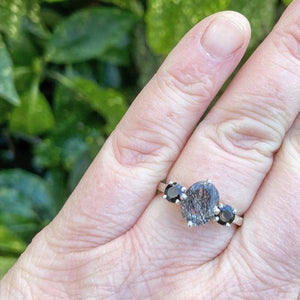 The Baroness-Bellatrix- Tourmalated Quartz & Black Spinel
If you're looking for the perfect dress or right hand ring. Look no further.

The Baroness.
Bellatrix. 
If you're a fan of a certain teenage wizard, this name should be very familiar to you. She was one of my favourite Characters in the books & movies.
This Baroness ring has a Stunning Tourmalated Quartz as her centre piece, Flanked by two beautiful Black Spinel. Each tourmalated quartz is unique.
The setting scoops down underneath the stone to the band, so she sits perfectly beside other flat or D-shaped bands. Making her perfect for stacking.
The band is Rustic Textured finish and measures just under 2mm in width. She measures just under 6mm from the table of the stone to the inside of the band at the finger. 
Available in 9ct Yellow, White or Rose Gold. Made to order so please allow 4-6 weeks for dispatch. sometimes we can do them quicker.
Please Note: Tourmalated Quartz is clear rock crystal or crystal Quartz, It shows strands of black tourmaline running through it, hence "tourmalinated/Tourmalated."  Each stone is unique so please allow for variations from the one shown in the picture above.
Tourmalated Quartz ranks 7 on Moh's scale so extra care is needed when doing any kind of manual labour such as gardening, weight training etc. Rings should be removed when partaking in such activites as well as when showering or bathing, applying creams etc as chemicals/cosmetics can cause metal/gemstones to discolour.
Please state your ring size in the customer comment section upon checkout. 
There is a small charge for rings over size T. You will Be contacted after your purchase to organise this. 
The details:
Metal: 9ct Rose gold. Assayed with JLB Makers Mark at Dublin Assay office in the Historic grounds of Dublin castle.
Gemstones:
9 x 7mm Oval Faceted Tourmalated Quartz-(Each one is unique)
2 x 4mm Black Spinel.
Band Width: 1.7mm
Band Depth: 1.7mm
Setting height: 5.8mm
Weight: Approx 2.3-2.8g(depending on the size)